Plate heat exchangers gaskets for all brands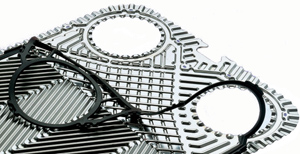 The gasket is moulded in one piece. The material is normally an elastomer, selected to suit the actual combination of temperature, chemical environment and possible other conditions to be considered. The one-piece gasket is consist of one field gasket, two ring gaskets and links.


Material
Max Temperature
Application
NBR
100℃
Their specific features are their remarkable resistance to oils, solvents and grease, whether aliphatic or aromatic.
High Temperature NBR
130℃
Hydrogen NBR
150℃
Its physical properties are remarkable even at high temperatures.
Good behaviour at low temperatures
Good resistance to numerous chemically aggressive oils.
EPDM
140℃
Excellent resistance to all kinds of ageing (heat, oxygen, ozone, weathering).
Sensitive to ultraviolet radiation and light.
Good chemical resistance to ketones, alcohols, and diluted bases together with certain lubricants
Very low resistance to hydrocarbon solvents and oils.
High Temperature EPDM
155℃
FPM-A
200℃
High resistance to extreme temperatures: -50°C to +200°C.
Resistance to most fluids for industrial use.
Resistance to thermal cycles.
FPM-G
200℃
High resistance to extreme temperature: -50°C to +200°C.
Optimum resistance to chemical product.
We have a very large stock of common gaskets, so you can avoid long delivery times.on the following pages we will give you an overview of the models that we provide here, you can select your heat exchanger so that we can make a suitable offer for you .
if you don't see the part you are looking for please ask and we will be pleased to assist.