Heat Exchanger Plate Technology
Heat transfer plates are characterized by optimum embossing, resulting in high heat transfer coefficients. Variable flow gaps can be generated as a result of the different types and angles of embossing. This permits optimum adaptation to the respective application conditions.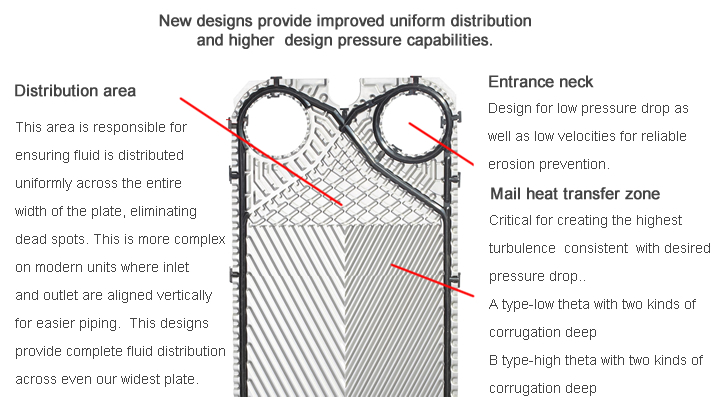 How to select the plate
Heat transfer plates are supplied as standard in material grade AISI304, AISI316L, Titanium, Titanium-Pd, SMO254, Hastelloy respectively, due to its corrosion-resistance and easy cleaning.
Material of Plate
Suited Liquid Kinds
Stainless steel
(AISI304.AISI316L Etc)
Pure Water, Normal Water, Oil for eating, Mineral Oil, Oil ,Except high chlorine ion fluid
Titanium
Titanium-Pd
Sea Water, Saline Water, Mineral Water, Alkali, Brine, Marine, Nacl Solution
20Cr 18Ni 6Mo
(SMO254)
Dilute Sulphuric Acid, Organic Water Solution
Nickel
High-temp and concentration caustic soda
Hastelloy
(C276, D205, B2G)
Concentration Sulphuric Acid, Hydrochloric acid, Phosphoric acid